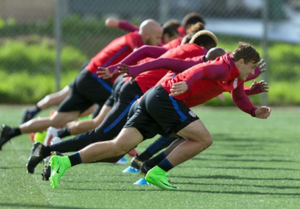 Your team struggling with no speed or pace off the mark? Losing games because your team is running out of gas? Your club has no coaches or you don't have access to a sprint coach?  

This is your opportunity to find one of the best sprint coaches in Sydney and get in on a 4, 8, or 12-week program that works on all the fundamentals to help you improve your speed and power. Coach Greg Smith is now launching his new annual team training program "Sprint FAST - Team Sports Speed Training" which helps athletes from sports such as Rugby League, Soccer, AFL, Cricket, Basketball, Netball, Rugby and other team sports improve their explosive strength, technique, coordination and speed in this program cycle. 

This program will help you not only improve in the offseason of your sport but also you can continue on throughout the year and let Greg become your private sprint coach that helps you continue to improve your explosiveness throughout your competition season. This program is in person for one day per week or fortnight, at the availability of Coach Greg and this program is for junior, senior or elite athletes. 

WHAT TYPES OF ATHLETES CAN BENEFIT FROM THIS SPEED TRAINING PROGRAM?
This program is designed for the short sprints, as well as any athlete who needs to sprint between 5 to 50 metres for their specific sport discipline. 
Program is designed with teaching you a basic warmup, speed drills, technical training, power development exercises, and multi-directional speed training. The sessions go for 60 minutes with a maximum 15 athletes per hour. These sessions can be conducted in the morning, early afternoon or late evening depending on availability. Team Sports speed training is also available for teams, clubs, schools looking to improve the overall group. 
Cost? $170 per hour with a minimum of 2 hours. Possible 2 groups or teams per session. The costs is payable before you start and you also have the opportunity to purchase additional materials to maintain performance throughout the year. Casual (once off) training sessions also available at costs of $225 per hour minimum of 2 hours. Contact us for more details.