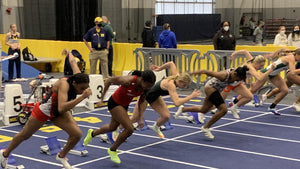 Coach Greg Smith developed these programs based off his knowledge he has used over the past decade, that helped him produced 4 Olympians, Commonwealth Youth Gold Medalist, ParaOlympian Silver Medalist, Commonwealth Games Bronze Medalist, Youth Olympian, and countless National & State Champions. In the 2019-2020 season, he had 30 athletes qualify for National Athletics Championships and World Junior Qualifiers for the past 4 years.
In 2022, he produced the U18 Men 100m National Record Holder in a time of 10.27secs. Sebastian Sultana went on to become the U20 Men Double National Champion in the 100m and 200m events in Brisbane. 

This program is for athletes who are currently at state level performance. To get into this squad you will need to provide past performances and show a good history of competing at Little Athletics regional and state competitions or show a strong history of competing at the senior level. For those athletes who are seniors with no prior experience or been out of the sport for awhile, we recommend you viewing the Intermediate speed training program.
If you have any further questions, please contact us.