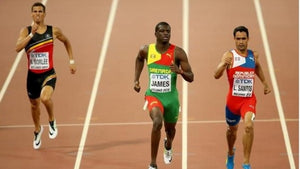 Are you struggling with finding the right sprint training program? Are you looking to develop acceleration, speed, speed endurance, strength, power, all while developing lean muscle mass? If so, Speedcity has the solution for you.
With the Speedcity's Sprint FAST - 6 weeks Special Endurance workout sessions for 400m sprinters, you get all the technical information + progression needed to take you from a general level of strength and speed into a faster, stronger, more powerful version of yourself.

Get 6 weeks of high quality sprint training for only $29.95!


WHAT WORKOUTS DOES THE 6-WEEK SPRINT TRAINING PROGRAM HAVE?
The 6-week sprint training program includes workouts which are designed to be used in the specific preparatory phase of an athlete's off-season and in-season. You should have a basic level of general fitness, such as from running, sprinting or lifting weights for at least the last few months. 


WHAT TYPES OF ATHLETES CAN BENEFIT FROM THIS 6-WEEK SPRINT TRAINING PROGRAM?
This program is designed for the short sprints (60-200m), as well as any athlete who needs to sprint between 200m and 400m for their sport or testing. This program works for athletes in the following events.
The program requires speed for Track & Field and long speed endurance sports such as AFL.