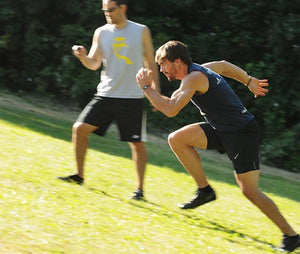 Get prepared for next season by taking advantage of your fall, winter, spring, or summer training.
Here at Speedcity, we believe that you need to train year round to ensure that you are always progressing toward your ultimate goals.
Most athletes should take some time off during the off-season, but too much time off can lead to stagnation or a loss of athletic qualities. As such, a strength, power, and conditioning focused off-season program is a great way for you to maintain and improve athletic qualities during the off season, without working so hard that you are burnt out by the time your season comes around.
In this program you will get:
16 weeks of high quality training for strength endurance hill running.
Great balance of sprint training and strength training for building a base specific for sprinting performance.
A healthy balance of running workouts with progression.
Enough training to get you ready for next season, but not so much that you are burnt out or over-trained by the time you get back with your team.
To be successful as a sprinter or team sports, you need to be fast, strong, and quick off the mark. This program is about being fast, explosive and have the right strength endurance to separate you from your competitor or opponent.
Ideal location to perform workouts for this program is on a 100m to 300m incline hill or on a paved road with the same distance parameters. All workouts should be in flats, sneakers, or joggers. No spikes required.