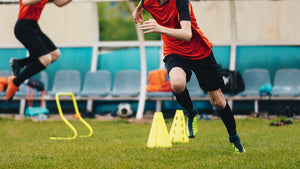 Are you struggling with finding the right speed & endurance training program? Are you looking to develop acceleration, speed, power, endurance all while developing an explosive base? If so, Speedcity has the solution for you.
With the Sprint FAST - 12 weeks Sprint & Endurance for Team Sports, exercises and workouts needed to take you from a general level of strength and speed into a faster, stronger, more powerful version of yourself. We will show you not only how to get off the mark but also how to maintain your speed for a longer period of time. 


Get 12 weeks of high quality sprint training program for only $69.95!


WHAT TYPES OF ATHLETES CAN BENEFIT FROM THIS 12-WEEK TRAINING PROGRAM?
This program is designed for athletes who play soccer, rugby, AFL, and gridiron, as well as any athlete who needs to sprint between 40 yards and 50m for their sport or testing.
The program requires access to grass oval, 100 metre section of a park, and access to some small cones. The program comes in Acrobat pdf format.