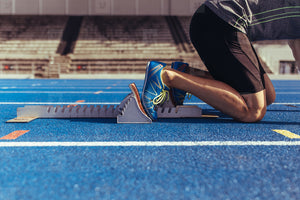 Please note: Our programs are not duplicates. We produced them 48 hours after purchase based on questions that we ask you about your current training status. So, if you have heard of us using someone else programs, do understand we have no reason to use some "so-called social media guru" programs that they have developed in his parent's basement. 
These programs are for athletes coming back into the sport or beginning athletes learning for the first time how to train. These are not the same as the programs we run in our day to day squad training. And will always give advice on training with a squad as #1 priority over online programs. Although we know some people may not have those resources in their area. 

Get prepared for next season by taking advantage of your sprint training.
Here at Speedcity, we believe that you need to train year round to ensure that you are always progressing toward your ultimate goals.
Most athletes should take some time off during the off-season, but too much time off can lead to stagnation or a loss of athletic qualities. As such, a strength, power, and conditioning focused off-season program is a great way for you to maintain and improve athletic qualities during the off season, without working so hard that you are burnt out by the time your season comes around.
In this program you will get:
16 weeks of high quality training for the 100m dash.
Great balance of sprint training and strength training for building a base specific for sprinting performance.
Strength, power, and conditioning workouts.
A healthy balance of weight room and running workouts.
Enough training to get you ready for next season, but not so much that you are burnt out or over-trained by the time you get back with your team.
To be successful as a 100m dash sprinter, you need to be fast, strong, and powerful. Most of the time, athletes develop these qualities during in-season training, but then fail to maintain them over the summer or in the off season.
Instead of losing progress this off season, utilize this off season 100m dash training program by Speedcity to ensure that you are fully prepared for your next season of sprint training.
This program is suited for 60m and 100m sprinters.